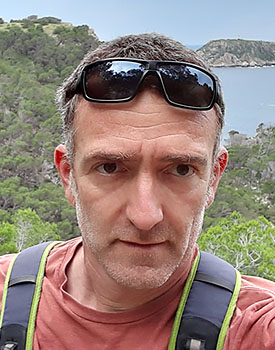 Bernat Hereu Fina is associated professor in the Department of Evolutionary Biology, Ecology and Environmental Sciences, at the University of Barcelona. He began his scientific career with biological monitoring of the Medes Islands Protected Area, which allowed him to develop his thesis on trophic interactions among fish, urchins and algae. Before rejoining the University of Barcelona, he undertook postdoctoral stages at the Université de Nice-Sophia Antipolis (France) and at Moss Landing Marine Laboratories (USA), where he further developed his studies on the ecology of algae communities. His current research focuses on two central issues: the study of the dynamics and functioning of benthic communities from a conservationist point of view, and the efficiency of marine reserves for the recovery of fish populations and their exploitation. In this research he uses visual and vídeo techniques, experimental approaches and telemetry techniques.
Selected articles:
Grane-Feliu, Xavier; Bennett, Scott; Hereu, Bernat; Aspillaga, Eneko; Santana-Garcon, Julia (2019) Comparison of diver operated stereo-video and visual census to assess targeted fish species in Mediterranean marine protected areas. Journal of Experimental Marine Biology and Ecology, 520. DOI: 10.1016/j.jembe.2019.151205. ISSN: 0022-0981.
Hereu B; Aspillaga E; Boada J; Capdevila P; Medrano A; Pagès M; Pérez M; Romero J; Rovira G; Sanmartí N; Linares C (2018) Seguiment del medi marí al Parc Natural de Cap de Creus i al Parc Natural del Montgrí, les Illes Medes i el Baix Ter. Memòria 2018. En Departament de Territori i Sostenibilitat. Direcció General de Polítiques Ambientals. (pp. 1-232). http://hdl.handle.net/2445/131277
Capdevila, P; C Linares; E Aspillaga; JL Riera; B Hereu (2018) Effective dispersal and density-dependence in mesophotic macroalgal forests: Insights from the Mediterranean species Cystoseira zosteroides. PLoS One, 13(1), pp. 1-15. Repositori Institucional. ISSN: 1932-6203.
Aspillaga, E.; Bartumeus, Starr, R.M.; López-Sanz, A.; Linares, C.; Díaz, D.; Garrabou, J.; Zabala, M.; Hereu B. (2017) Thermal stratification drives movement of a coastal apex predator. Scientific Reports, 7(526). Repositori Institucional. ISSN: 2045-2322.
Hereu B.; Kersting DK (2016). Diseases of coralline algae in the Mediterranean Sea. Coral Reefs, 35(2), pp. 713-713. DOI: 10.1007/s00338-016-1428-x. ISSN: 0722-402.
Capdevila P; Hereu B.; Riera JL; Linares C (2016) Unraveling the natural dynamics and resilience patterns of underwater Mediterranean forests: insights from the demography of the brown alga Cystoseira zosteroides. Journal of Ecology, 104(6), pp. 1799-1808.
Aspillaga, E.; Bartumeus, Linares, C.; Starr, R.M.; López-Sanz, A.; Díaz, D.; Zabala, M.; Hereu B. (2016) Ordinary and Extraordinary Movement Behaviour of Small Resident Fish within a Mediterranean Marine Protected Area. PLoS One, 11(7) . Repositori Institucional . ISSN: 1932-6203
Ling, S. D., Scheibling RE, Rassweiler A, Johnson CR, Shears N, Connell SD, Salomon A, Norderhaug KM, Perez-Matus A, Hernandez JC, Clemente S, Blamey L, Hereu B, Ballesteros E, Sala E, Garrabou J, Cebrian E, Zabala M, Fujita D, Johnson LE (2015) Global regime-shift dynamics of catastrophic sea urchin overgrazing. Philosophical Transactions of The Royal Society of London B.
Hereu, B.; Linares, C.; Diaz, D.; Sala, E.; Garrabou, J.; Zabala, M. (2014) Long-term monitoring of sea urchin populations in the nw mediterranean: Integrating processes and factors acting at different spatial and temporal scales. En Fernández-Palacios JM, Nascimento L, Hernández JC, Clemente S, González A, Díaz-González JP (eds.) CLIMATE CHANGE PERSPECTIVES FROM THE ATLANTIC: PAST, PRESENT AND FUTURE. (pp. 389-410) . Servicio de Publicaciones, Universidad de La Laguna. ISBN: 978-84-15910-54-1.
Garcia-Rubies, A.; Hereu, B.; Zabala, M. (2013) Long-term recovery patterns and limited spillover of large predatory fish in a Mediterranean MPA. PLoS One, 8(9), e73922.
Contact: hereu@ub.edu