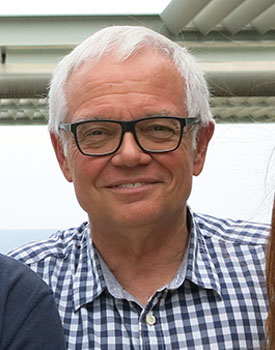 Josep-Maria Gili is a Research Professor of the High Scientific Research Council. He works at the Institute of Marine Sciences of Barcelona where he created the Group of Ecology of the Marine Benthos and the Group of Ecology of Gelatinous Zooplankton. For 40 years he has been working in different fields from the marine ecology between which they stand out: the integrated study of coastal ecosystems, the structure and dynamics of benthic communities, zooplankton ecology, trophic ecology of marine invertebrates and biodiversity and taxonomy of Cnidarians. He has centered part of his work in the formation of young students as much as Prof. of Ecology of the University of Barcelona, teaching doctorate courses, making conferences, organizing international meetings and courses for students and doctors. At the present time it develops research projects of investigation in the Mediterranean, Antarctic, South Pacific and North Atlantic. Recently he received the Sant Jordi award 2010 (National Catalonian award of Environmental Sciences).
Selected articles:
Gili J-M, Vendrell-Simón B, Arntz W, Sabater F, Ros JD (2020). The benthos: the ocean's last boundary?. Sci. Mar., 84: 463-475.
Gili, J-M., Sardá, R., Madurell, T., Rossi, S. (2014) Zoobenthos. The Mediterranean Sea: Its History and Present Challenges (S. Goffredo, Z. Dubinsky, editors). Springer Science, pp. 213-236.
Gili, J.M., Duró, A., García-Valero, J., Gasol, J.M., Rossi, S. (2008) Hervibory in small carnivores: benthic hydroids as an example. J. Mar. Biol. Ass. U.K., 88: 1541-1546.
Bouillon, J., C. Gravili, F. Pagès, J.M. Gili, F. Boero (2006) An introduction to Hydrozoa. Mémories du Muséum natational d'Historie naturelle, Paris. Vol 194, 591pp.
Gili, J.M., Rossi, S., Pagès, F., Orejas, C., Teixidó, N., López-González, P.J., Arntz, W.E. (2006) A new trophic link between the pelagic and benthic systems on the Antarctic shelf. Mar. Ecol. Prog. Ser. 322: 43-49.
Gili, J.M., Arntz, W,E., Palanques, A., Orejas, C., Clarke, A., Dayton, P., Isla, E., Teixidó, N., Rossi, S., López-González, P.J. (2006) A unique archaic epibenthic community of sessile passive suspension feeders in the high Antarctic. Deep Sea Res. II, 53: 1029-1052.
Gili, J.M., Coma, R., Orejas, C., López-González, P.J., Zavala, M. (2001) Are Antarctic suspension feeding communities different from those elsewhere in the world?. Polar Biol., 24: 473-485.
Gili, J.M., F. Pagès, J. Bouillon, A. Palanques, P. Puig, S. Heussner, A. Calafat, M. Canals, Monaco, A. (2000) A multidisciplinary approach to the understanding of hydromedusan populations inhabiting Mediterranean submarine canyons. Deep-Sea Res. Part I: 47: 1513-1533.
Arntz, W.E , J.M. Gili, Reise, K. (1999) Unjustifiably ignored: Reflections on the role of benthos in marine ecosystems. In: Biogeochemical Cycling and Sediment Ecology (J.S. Gray, W. Ambrose & A. Szaniawska, eds.), Kluwer Academic Publishers, Dordrecht, pp. 105-124.
Gili, J.M. Coma, R. (1998) Benthic suspension feeders: their paramount role in littoral marine food webs. Trends Ecol. Evol., 13: 316-321.
Gili, J.M., Hughes, R.G. (1995) The Ecology of marine benthic hydroids. Oceanogr. Mar. Biol. Ann. Rev. 33: 351- 426.
Contact: gili@icm.csic.es
ResearchGate: Josep Maria Gili